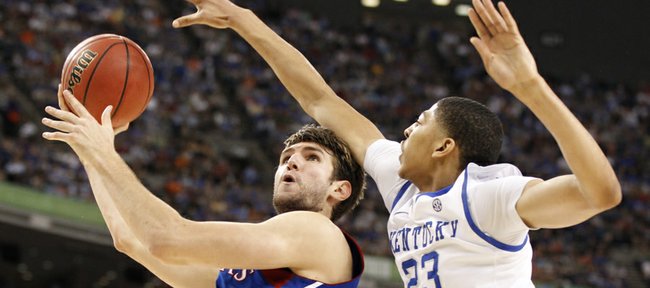 This Pelicans team is a mess, and it seems like it still may take some moves in the offseason to get this team on the track it needs to be on. But there is one bench reserve that should stay on this roster, and that's the second round draft pick, Jeff Withey. Withey may not be known for a whole lot of things in a positive way around the league, he's probably most well known as the guy that got posterized by Xavier Henry trying to take a charge. At first glance Withey looks like another lanky seven footer with no real identity, but he might be much more.
The center position has been experimented over and over again this year as the Pelicans' staff try to find the player who would fit best next to Anthony Davis. Jeff Withey didn't even get checked into a lot of the games at the beginning of the year. Eventually, he was able to get into games more often as the season went on, but guys like Greg Stiemsma and Alexis Ajinca were still favored over Withey, who both averaged more minutes per game than him. Injuries were a part of it, but constant changing of rotations and lineups was among the biggest problems for the Pelicans this year. Jeff Withey may have been the guy they were looking for all along.
Outside of Anthony Morrow, in the 2013-2014 season, Jeff Withey was the only guy to average a positive +/- on the Pelicans roster that played a significant amount of games. While some might say the +/- stat is inconsistent or not important--to be the one of only two players on your team to have a positive +/- must mean something. Jeff Withey also ranks 6th in the entire NBA in opponent field goal percentage at the rim on a list where Anthony Davis ranks 44th. Some of it might have to do with Withey's limited playing time and being well rested when entering the game, although that is still an extremely impressive feat for a rookie that most say needs to bulk up (which would help him even more of he did).
An Anthony Davis-Jeff Withey combo down low might just work out, this should not leave a spacing problem on the offensive end as both of them have shown the ability to hit the midrange shot. On the defensive end, you can never have too much rim protection and if these two develop the way we should expect they will, they would leave other teams in fits trying to score baskets in the paint. Anthony Davis blocked 4.7 blocks per game in his one year at Kentucky, as Jeff Withey averaged 4 blocks a game in his final year at Kansas. Those are the stats you usually see from guys like Hassan Whiteside--who averaged 5.4 blocks a game at mid major, Marshall--you just don't see those stats from guys that play tough competition at schools like Kentucky and Kansas. Once they adjust to the league on the defensive end a bit more, they will surely show similar dominance. Jeff Withey actually broke Joakim Noah's NCAA tournament blocks record by blocking 31 shots in the 2012 NCAA tournament, where he fell to Anthony Davis is the championship game. Due to his limited minutes this year, we did not get to see very much of him this year, but he maybe more athletic than he is given credit for.
There are still some roster tweaks that need to happen to this Pelicans team, but it would make it that much easier for their management if this team's big men going forward are already on the roster; and they might be.